Waterjet subcontractor experts for high value parts.
Your part. Our production lines.
Our Advanced Production department is equipped with a wide range of Aquarese waterjet solutions led by our world-renowned expert application specialists. Our team is ready to deliver your production parts on-time, and on-quality.
Our everyday production caters to customers who require exacting precision and high-value materials, thick part processing, 3D part production, and everything in-between. From shaping complex parts of various sizes and geometries to accommodating complex fixtures and removing tough coatings, our experts are ready to solve your toughest production challenges.
The Aquarese Promise
Whether we are supplementing your existing production capacity or implementing a new solution, we are dedicated to ensuring your parts meet your specifications and committed to personalized support.
On-Time Delivery
The organisation of our team allows us to easily adapt to support fluctuations in volume, frequency, and our customer's delivery schedules. Accordingly we'll meet your 'on-time' delivery requirements.
High Quality Guarantee
(EN9100 Certified)
When you partner with us, we understand you are placing your trust in us to deliver high-quality parts matching your requirements. You can count on us to deliver the parts you need.
Turn Around Time (TAT) Assurance
We understand the importance of Turn Around Time (TAT) and take this into account when we enter a partnership with you.
From quick-turn, short runs to multi-year agreements for ongoing demands, our contract options are flexible and based around your needs.
The Experts Behind Your Parts
The team operating our Advanced Production solutions are not only waterjet experts, they are also highly trained in engineering, material composition, and various industry requirements, with years of experience in manufacturing. Accordingly, we'll manage the production of your parts as if it was our own. We adapt quickly to your needs and deliver parts you can be proud of, regardless of the quantity you need produced.
In-house tooling design and manufacturing
hours per year of production
hours per year of production
24 hours, 7 days a week operation
We always have extra systems held exclusively as backup solutions to ensure we are ready to meet your needs.
Ultrahigh-Pressure Waterjet Processes
Here are just some of the ultrahigh-pressure solutions we offer:
Waterjet Cutting
Cutting or machining all types of materials of any thickness, to high tolerances using ultrahigh-pressure water and abrasive material.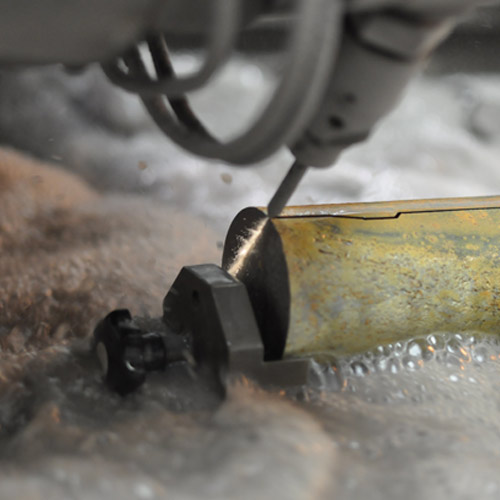 Waterjet Rough Machining
Rough cutting parts on waterjet to save time and money before using an EDM or similar process.
Waterjet Stripping
Removing coatings caused by thermal projection (Plasma – APS, HVOF, EB-PVD) without any chemical products and with no damage to the original surfaces.
Our Advanced Production department produces parts to the strictest standards, matching even the most demanding client requirements and delivering comprehensive part documentation. EN9100 certified, we are regularly audited by third-party auditors to ensure well-tracked production and quality all the way through our production process. Our aeronautical cover policy allows us to handle critical and very critical parts.
We start from your part and continue with your success.
Aquarese is proud to be a Shape Technologies Group company, partnering with the world leaders in UHP technology to engineer and deliver the future of manufacturing process solutions.