Applications Development Lab
Our expert applications team at your service.
Our team is always available to prepare and secure tomorrow's innovations.
From Challenges to Solutions
Here are just a few examples of solutions our Advanced Development Lab has uncovered and refined.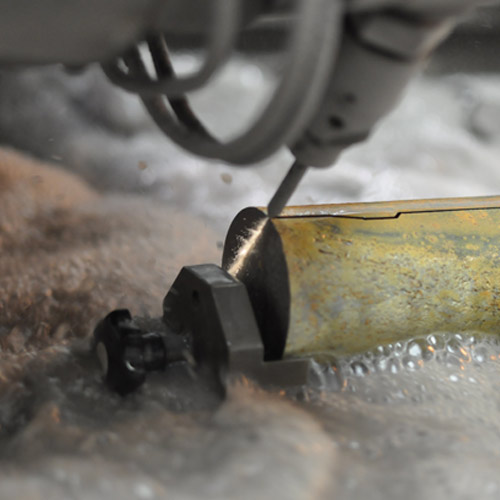 Challenge:
Extremely thick super alloy machining
Solution: Ultrahigh-pressure waterjet cutting up to 500 mm
Challenge:
Ultra-hard deposit stripping
Solution: 6000 bar
Challenge:
Titanium Skin Drilling
Solution: Drilling
Challenge:
Core removal
Solution: CSR
Our unique Applications Development Lab is constantly looking to solve the newest and most challenging production and processing demands. We prepare the innovation that will guarantee the quality and performance of your high-pressure solution over the long term.
This unique facility allows us to research, refine and improve part processing. It also allows our customers to validate or prove out concepts for production.
Our specialized applications team tests the feasibility and understands the economic parameters of the solution to guarantee efficient production.
With You
We constantly work to improve our processes. Trying to be better, faster, producing higher quality – these are always in our mind when it comes to improving on your production process. Our operators are always on the lookout for improvements to suggest to our applications team who test and validate the improvement, which is then tested in production to guarantee the repeatability of the process.
With partners
We place a high value on continuous R&D. We like to innovate constantly and for that we always look for new partnerships with research centers. We are proud to be working with prestigious R&D companies and universities such as 'l'Ecole des Mines de Douai', 'IRT Strasbourg', AMRC from Sheffield University, department R&D for Surface treatment of Safran and Rolls-Royce University of Technology Centre of Nottingham.
Taking part in such research projects allows us to strive for continuous improvements at all times but also allows us to maintain our position as the leading experts in the waterjet business and adapt to a constantly changing market environment.
We often conduct our Research & Development testing in close collaboration with our customers, based on precise preliminary agreements regarding confidentiality limits and shared information. We take our partnerships very seriously and ensure your confidentiality requirements are upheld accordingly.
After we have determined the best solution for your processing requirements, we validate and implement that solution in our Advanced Production or in our Engineered Systems departments.
We start from your part and continue with your success.
Aquarese is proud to be a Shape Technologies Group company, partnering with the world leaders in UHP technology to engineer and deliver the future of manufacturing process solutions.